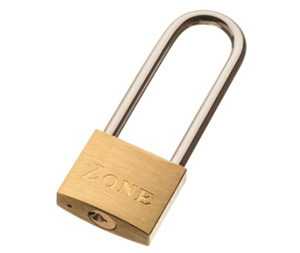 Medium Security, Padlocks,
10 Series – Long Shackle Brass Padlock
The long shackle variant of the 10 series padlock. The shackle length varies depending upon the padlock width. The maximum shackle size being 76mm on the 50mm padlock. The padlocks are supplied with 4 keys as standard, in boxed or visi packs. The long shackle allows the padlock to be used in a wider variety of applications than the regular variant.
Medium Security

Open sprung long shackle

Anti-lock pins

Solid brass body

Large range of differs

Padlocks

Double locking

Anti-pick key profile

Hardened steel shackle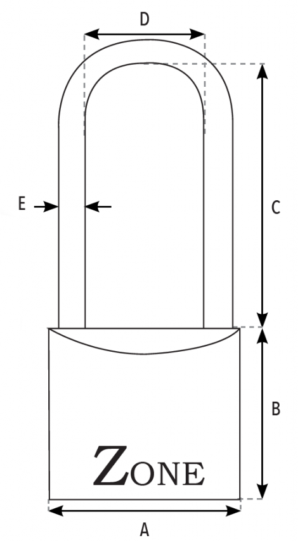 Product Specifications (mm)
| | | | | | | | | | | | |
| --- | --- | --- | --- | --- | --- | --- | --- | --- | --- | --- | --- |
| Stock Ref. | A | B | C | D | E | F | K/A | No. Pins | locking | Finish | Pack Style |
| 10/30/LS/BR | 30 | 28 | 64 | 16 | 5 | 13 | | 4 | Double | SATIN BRASS | Box |
| 10/30/LS/BR/V | 30 | 28 | 64 | 16 | 5 | 13 | | 4 | Double | SATIN BRASS | Visi-pack |
| 10/40/LS/BR | 40 | 33 | 70 | 22 | 6.3 | 14.5 | | 5 | Double | SATIN BRASS | Box |
| 10/40/LS/BR/V | 40 | 33 | 70 | 22 | 6.3 | 14.5 | | 5 | Double | SATIN BRASS | Visi-pack |
| 10/50/LS/BR | 50 | 41 | 76 | 28 | 7.8 | 17 | | 5 | Double | SATIN BRASS | Box |
| 10/50/LS/BR/V | 50 | 41 | 76 | 28 | 7.8 | 17 | | 5 | Double | SATIN BRASS | Visi-pack |